My Tanita App*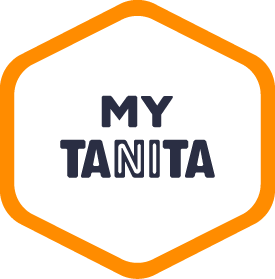 My Tanita is a Healthcare Service provided by TANITA which helps you monitor your health and fitness progress using the most accurate BIA technology from the TANITA connected devices.
At Tanita, we are all about supporting your success and that means giving you the tools to maintain your activity and healthy eating. One of these tools is exactly the My Tanita App.
*This App will allow you to connect your TANITA body composition monitor (the

RD-series

and the newly launched

BC-401

) by Bluetooth 4.0 to build detailed and easy visual graphs of your measurements.
The TANITA Body Composition Monitors are connected easily with your smartphone and will show you more than 10 important body health values. This means that you have the data at your fingertips, whenever you are and you will be able to download them as pdf or csv file so to share them with your personal trainer and check them at any time.Set the goals you want to reach and leverage the app to check your progress and always make sure to be on the right track. 
- Apple Healthkit integration 
MyTanita app makes use of Apple Health to sync some of your measurement data.
 To set up data sync to Apple Health, please follow the below steps:
1.
Download the MyTanita app to your iPhone via the App Store. Set up an account and a personal profile (you can have up to 4-5 profiles per account). 
2.
Go into Settings (three horizontal lines button in the top left corner of the app screen) and then select My Profile. 
3.
On this page you should see your Profile number, your information, your personal targets, preferred units and Synchronisation (if you can't see it, scroll down the age). Apple Health will be listed here as an app you can sync your data to. Please toggle it on if you'd like to sync your data.
4.
Close the MyTanita app (do not log out). Open the Apple Health app on the same device. You should be on the Summary page when you first open the app, please select the Sharing tab.
5.
Once in the menu, select Apps and then select MyTanita (which will now appear in this list as you completed Steps 1-3). 
6.
In this menu, you will be able to chose from the list will sync to Apple Health. 
If you get stuck following these steps, please contact our Tanita Australia customer service team at info@tanitaaustralia.com. 
- Body Composition Monitor (measurements vary depending on the device) Weight / Body Fat % / Muscle Mass / Bone Mass / Visc. Fat Lv / Basal Metabolic Rate / Metabolic Age / Total Body Water % / BMI / Muscle Quality / Physique Rating 
If you want to use the Tanita body composition monitors together with other people (even the whole family) and more phones, that is not a problem. To do this, each individual needs to repeat the "choose device" and "pairing" steps on their own smartphone before taking a measurement. 
Please seek a doctor's advice in addition to using this app and before making any medical decisions. 
Healthplanet App
Healthcare Service provided by TANITA. 
You can manage your measurement data in visual and check those data at Smartphone whichever you want to see. 
The app will carry out record attachment of the body data, and will learn the custom of measuring health. 
You can see at a glance change data that has been recorded because the graph display.Diet planned is possible to set goals. 
[ The Health app cooperation function ]
In cooperation with the Health app, data registered in the app will be cooperation in the the Health app. 
[ Input items that can be ] 
- Body Composition MonitorWeight/Body Fat %/Muscle Mass/Bone Mass/Visc.Fat Lv/ Basal Metabolic Rate/Metabolic Age/Body Water %/BMI 
- PedometerSteps/Calorie Expenditure/Exercise 
- SphygmomanometerLowest Blood Pressure/Highest Blood Pressure/Pulse 
- Digital urine glucose meterUrine Glucose
Note:
This app is compatible with all Tanita Australia Bluetooth models.
Powered by AZEXO Shopify page builder