Tanita White RD-953 + FREE SR-901 Subcutaneous Fat Analyser Bundle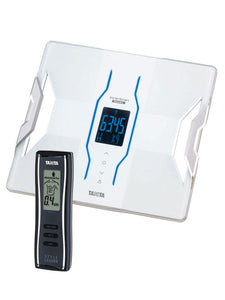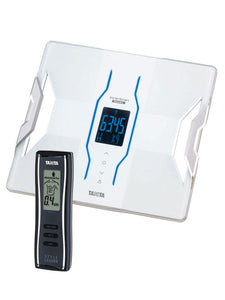 Buy RD-953 Body Composition Monitor in white or black and get a FREE SR-901 Subcutaneous Fat Analyser (RRP $598.00) in the Tanita RD-953 + FREE SR-901 Bundle while stocks last. To learn more about the FREE SR-901 Subcutaneous Fat Analyser, click here.


About the RD-953:

Using BIA and ADF technology, the Tanita RD-953 Bluetooth InnerScan Dual-Frequency Body Composition Monitor delivers a detailed body composition analysis and accurate readings.

This large-sized Bluetooth Body Composition Monitor is high capacity and measures up to 200kgs. It connects via Bluetooth to the MyTanita app and the HealthPlanet app. Data from these apps can be synced to the Apple Health app and the Google Fit app.
 Measures:

Weight (Up to 200kgs)
Body Fat %
Total Body Water
Muscle Mass
Muscle Quality (High, Standard or Low)
BMR (Basal Metabolic Rate)
Metabolic Age
Visceral Fat Rating
Physique Rating
Bone Mass
BMI (Body Mass Index)


Bluetooth Capabilities:

Connect to Apple Health and Google Fit apps
Connect to MyTanita app
Connect to HealthPlanet app


Other Features:

Can be used with or without the Bluetooth app
Coloured LCD display to display measurements on device
Large-sized scale for increased stability, with a max of 200kgs capacity
Available in black or white
Ability to create up to 4 user profiles to save details and track progress
Smart auto-recognition of the user
Guest mode and athlete Mode
5-year replacement warranty
About SR-901:
The Tanita SR-901 A Subcutaneous Fat Analyser measures the thickness of the fat under the skin using reactance technology.
Features:
LCD screen

Allows you to measure subcutaneous fat around the abdomen to track progress

Also works for other parts of the body such as the biceps, triceps, quads, etc
Technology
BI method (reactance technology) Liquid crystal display No. patented No. 5314099
Download Instruction Manual
Download here
| | |
| --- | --- |
| Hight Weight capacity: | 200kg |
| Total Weight in increments: | 0.05kg |
| Print results: | Yes |
| Auto Recognition: | Yes |
| Metabolic Age: | Up to 99 years |
| Guest mode: | Yes |
| User memories: | 4 |
| Product dimensions (mm): | 298mm x 328mm x 32mm |
| Product weight: | 2.1kg |
| Power supply: | AA x 4 |
| Compatible (bluetooth): | Apple/Android |
| Replacement warranty: | 5 year |


Measurements

| | | |
| --- | --- | --- |
| | | |
| Weight (Up to 200kgs) | Body Fat % | Total Body Water |
| | | |
| --- | --- | --- |
| | | |
| Muscle Mass | Muscle Quality | BMR |
| | | |
| --- | --- | --- |
| | | |
| Metabolic Age (Up to 99 years of age) | Visceral Fat Rating | Physique Rating |
| | | |
| --- | --- | --- |
| | | |
| Bone Mass | BMI | High Capacity |
Total 5 star reviews: 0
Total 4 star reviews: 0
Total 3 star reviews: 1
Total 2 star reviews: 0
Total 1 star reviews: 0
0%
would recommend this product
Using in a health clinic

It's a good product when you can get it to work. It is very difficult to sync with a person's phone app at times, taking a really long time to do so. It isn't as useful in my clinic as I thought it would be. I have a set of regular scales sitting next to it as I can't get someone to just step up and check their weight.
Reviews Loaded
Reviews Added
Shipping Cost
Tanita Australia aims to have orders processed and dispatched within 2 business days of receiving the order.
Delivery time depends on the delivery location and Australia Post standard delivery times.
Tracking information
If the tracking information is required please contact the Tanita Australia team 5 business days after your order has been placed on 1800 099 012.
FAQs
Why Choose Tanita?

Tanita operates throughout the globe, including Australia, America, Europe, India, Japan and China, leading to over 30 million units sold worldwide to this day.With such a vast reach, Tanita has established itself as one of the world leaders in health monitoring, as well as body composition monitors and scales - which is unsurprising considering Tanita created the world's very first electronic body fat scale back in 1994.
How accurate are Tanita Body Composition Monitors?

Studies have shown the results obtained through Tanita BIA have been shown to be within +/-5% of Underwater Weighing and Pencil Beam DEXA scans.
What is Bioelectrical Impedance Analysis (BIA)?

Bioelectrical Impedance Analysis (BIA) is considered one of the most reliable and accessible methods of screening body fat. Electrodes in the foot sensor pads (and hand sensor pads in a segmental monitor) send a low, safe electrical signal through the body and weight is calculated automatically along with up to 25 other readings in seconds.

BIA measures an individual's impedance or resistance to the electrical signal as it travels through the water that is found in muscle and fat. With a Tanita Body Composition Monitor, you add personal information (age, gender, height etc) into the monitor when setting up your own user memory profile, which then inputs your characteristics & calculations into the correct algorithms for you to produce the measurements provided by your reading.
Why is important to monitor body composition rather than just body weight?

Your total body health is more important than just one number. Measuring weight alone is not a complete nor accurate assessment of health or fitness level. 

The total body weight measurement does not distinguish the difference between kilograms that come from fat, the kilograms that come from lean muscle mass, the weight of bone mass or the impact different body water levels have on your total body weight.

Monitoring body composition allows you to gain a deeper insight into your overall body health, giving you the knowledge that you can then use to make educated changes to your diet and fitness routines to achieve your health and fitness goals sooner.
When should you measure yourself on a Tanita?

To get the most reliable and accurate reading that best represents your actual total body health, use your Tanita Body Composition Monitor at a consistent time of day under consistent conditions, and at least three hours after rising, exercising, eating, drinking alcohol and taking medication.

For most, this time is usually mid-to-late afternoon, before dinner and before your afternoon/evening workout.