Tanita BC-582 FitPlus Body Composition Monitor with FREE Cookbook Bundle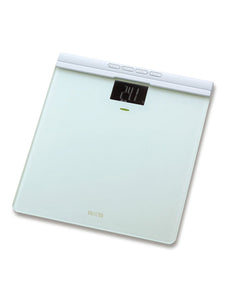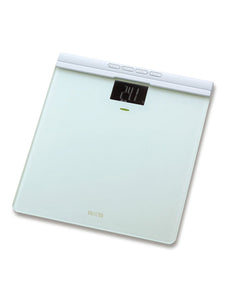 The Tanita BC-582 Body Composition Monitor delivers a detailed body composition analysis and accurate body comp readings using BIA and ADF Inner Scan technology along with the FitPLUS feature.

Measures:

Weight (up to 150kg)
Body fat %
Total Body Water
Muscle Mass
DCI (Daily caloric intake)
Metabolic age
Visceral Fat Rating
Physique Rating
Bone Mass
FitPlus Feature:
Designed specifically for people with menstrual cycles 
The start dates of every cycle are input by the user
Acts as a calendar reminder to monitor the natural metabolic changes throughout the month
Gives healthy prompts at different phases of the menstrual cycle
Allows users to align their diet and exercise with their body's natural hormone cycle
Minimises fatigue and maximises calorie burn
Other Features:
Easy to use

Sleek display with a distinctive traffic light system

Ability to create up to 5 user profiles to save details and track progress

Guest mode

5-year replacement warranty
Technology:
FitPLUS (a feature exclusive to people with menstrual cycles) monitors monthly metabolic changes and correlates this with how the body responds to diet and exercise regimes.
Bioelectric impedance analysis (BIA)
Advanced Dual Frequency (ADF)
Transparent Electrodes


Download the Manual
Download here 
| | |
| --- | --- |
| Weight capacity: | 150kg |
| Total Weight in increments: | 0.1kg |
| Metabolic Age: | Yes |
| Guest mode: | Yes |
| User memories: | 5 |
| Size of display: | 27mm |
| Product dimensions (mm): | 320mm x 300mm x 42mm |
| Product weight: | 2kg |
| Power supply: | AA x 4 |
| Replacement warranty: | 5 year |
Measurements

| | | |
| --- | --- | --- |
| | | |
| Weight | Body Fat % | Total Body Water |
| | | |
| --- | --- | --- |
| | | |
| Muscle Mass | DCI | Metabolic Age |
| | | |
| --- | --- | --- |
| | | |
| Visceral Fat Rating | Bone Mass | Physique Rating |
| | | |
| --- | --- | --- |
| | | |
| FitPlus Feature | | |
Shipping Cost
Tanita Australia aims to have orders processed and dispatched within 2 business days of receiving the order.
Delivery time depends on the delivery location and Australia Post standard delivery times.
Tracking information
If the tracking information is required please contact the Tanita Australia team 5 business days after your order has been placed on 1800 099 012.
FAQs
Why Choose Tanita?

Tanita operates throughout the globe, including Australia, America, Europe, India, Japan and China, leading to over 30 million units sold worldwide to this day.With such a vast reach, Tanita has established itself as one of the world leaders in health monitoring, as well as body composition monitors and scales - which is unsurprising considering Tanita created the world's very first electronic body fat scale back in 1994.
How accurate are Tanita Body Composition Monitors?

Studies have shown the results obtained through Tanita BIA have been shown to be within +/-5% of Underwater Weighing and Pencil Beam DEXA scans.
What is Bioelectrical Impedance Analysis (BIA)?

Bioelectrical Impedance Analysis (BIA) is considered one of the most reliable and accessible methods of screening body fat. Electrodes in the foot sensor pads (and hand sensor pads in a segmental monitor) send a low, safe electrical signal through the body and weight is calculated automatically along with up to 25 other readings in seconds.

BIA measures an individual's impedance or resistance to the electrical signal as it travels through the water that is found in muscle and fat. With a Tanita Body Composition Monitor, you add personal information (age, gender, height etc) into the monitor when setting up your own user memory profile, which then inputs your characteristics & calculations into the correct algorithms for you to produce the measurements provided by your reading.
Why is important to monitor body composition rather than just body weight?

Your total body health is more important than just one number. Measuring weight alone is not a complete nor accurate assessment of health or fitness level. 

The total body weight measurement does not distinguish the difference between kilograms that come from fat, the kilograms that come from lean muscle mass, the weight of bone mass or the impact different body water levels have on your total body weight.

Monitoring body composition allows you to gain a deeper insight into your overall body health, giving you the knowledge that you can then use to make educated changes to your diet and fitness routines to achieve your health and fitness goals sooner.
When should you measure yourself on a Tanita?

To get the most reliable and accurate reading that best represents your actual total body health, use your Tanita Body Composition Monitor at a consistent time of day under consistent conditions, and at least three hours after rising, exercising, eating, drinking alcohol and taking medication.

For most, this time is usually mid-to-late afternoon, before dinner and before your afternoon/evening workout.